Catch up by reading part 1 of my recap here!
Friday
After the whirlwind that was Thursday, Friday was considerably more relaxed. We spent the morning in line for the Game of Thrones Survive the Realm experience. Inside, there were lots of costumes on display (so much detail!), and you could make a gif of you with Drogon, sit on the Iron Throne, and climb The Wall via Oculus Rift. It was pretty cool, but I'd already seen all of that (except the Drogon gif) at SXSW, so I was a little disappointed that I waited so long.


We were hot from waiting outside and tired, so we changed out of our costumes and into normal clothing for the Nerdist cosplay panel and @midnight live. The cosplay panel was rad - there were so many cosplayers I really admire, like Commander Holly and Chloe Dykestra - and I learned so much.
They're playing Tenacious D so it's going to be a good time. #midnightSDCC @midnight pic.twitter.com/mA6YWrqdl9
— Mia Moore (@xoMiaMoore) July 26, 2014
@midnight is one of my favorite TV shows currently - it's a game show with different comedians as the contestants, and it draws from the internet! I was so excited when I saw they were doing a live show at SDCC - we got seats in the 3rd or 4th row, so we had a great view! It started off with stand-up, then a live version of the show itself. The featured comedians were Matt Mira, Brian Posehn, Steve Agee, and Grace Helbig. It was awesome and I hope they do a live show again next year.
Saturday
Bryan Lee O'Malley,
creator of Scott Pilgrim, just released a new book,
Seconds
, and hosted a panel at SDCC for the first time in 5 years! I knew I had to wear Ramona for the occasion. Lots of people dressed up in Scott Pilgrim costumes, which was awesome!
A lot of people at the panel hadn't read Seconds yet, but I was happy to learn more about what inspired the story and the artistic process. I also picked up my SDCC-exclusive copy of Seconds and got it signed by Bryan!
At the panel, I got to man the mic during the Q&A session! It was pretty easy since almost everyone was respectful and asked appropriate/good questions, but I was pretty nervous to stand up in front of a room full of Scott Pilgrim fans! Afterwards, me and another Ramona cosplayer took a photo with Bryan - she made her jacket, can you believe it?!
For the third day in a row, we went and changed into Game of Thrones cosplay for the
Courtyard Mariott cosplay contest
! Normally, I'm not much of a contest person. I have a lot of fun cosplaying, but my craftsmanship isn't that great. Megan (
The Nerdy Girlie
) personally invited us to this contest by giving us keys, and when she told me that Norman Reedus and Greg Nicotero were judging, I couldn't say no!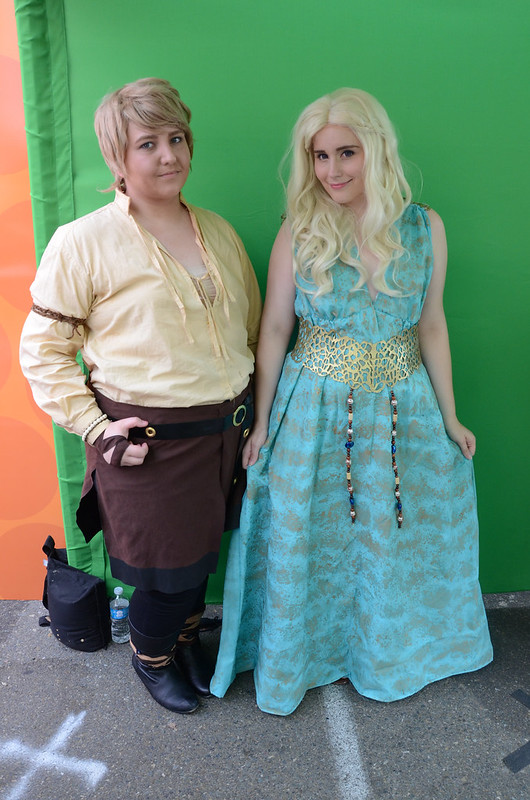 Photo by Megan
It wound up being a really awesome experience, even with a few bumps along the way. All the other cosplayers there were super sweet and we bonded backstage. Norman Reedus loved my contacts/eye makeup - he said "Whoa!" - and all the other cosplayers had some seriously impressive costumes.
Photo by Megan
Photo by Megan - isn't her dress awesome?
Sunday
We were supposed to wear our South Park: The Stick of Truth cosplays on Sunday, but honestly, Liz and I were exhausted! We were only expecting to wear one costume each day, but it quickly turned into two whenever the beer tasting and cosplay contest popped up. I wouldn't trade it for anything, but I think next year, I will be a little smarter about choosing my costumes. SDCC is simply too huge to cosplay comfortably, and multiple costumes a day was not a great idea!
So instead, we took Sunday easy and wore our Westeros map shirts we got from the HBO pop-up shop. We didn't plan to pack almost identical outfits, but we both have similar tastes, I guess!
Sunday was mostly wandering around, tying up loose ends, and watching Colby do the Assassin's Creed Parkour Course. Assassin's Creed partnered up with a parkour training facility to make its game more fluid and realistic, and hires them to do videos and performances. They set up a giant obstacle course for SDCC with the official parkour team performing throughout the day. It was really cool! It made me want to learn parkour.
Liz made a video that captures the scale and immensity of SDCC really well!
This was, by far, my most packed SDCC yet. I wore more costumes, did more things, and saw more people this year than any year prior. It was such a great experience and I look forward to next year!
What celebrity would you most want to meet at SDCC?
---